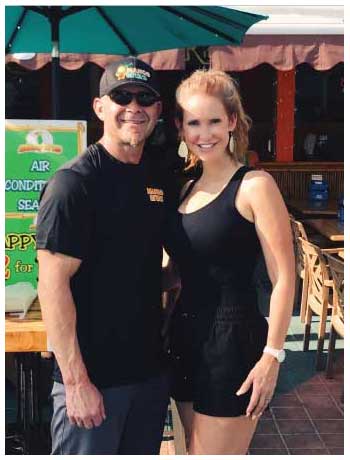 The new owners of Mango Rita's in Fort Myers Beach Florida took over on June 3,2019. Jacinta and Jason Ingream come from a small town in Pennsylvania called Greencastle. The area is steeped in civil war history as Gettysburg PA and Antietam Battlefield are near. Jacinta formerly ran a restaurant, nightclub and large event center in Hagerstown Md. Jason has a history in the truck industry having been an engineer at Jerr-Dan a tow truck manufacturer and for the last 15 years at Volvo Powertrain, where all Volvo and Mack truck engines are made.
They have planned on moving to Florida for many years as this was their favorite place to visit. Normally they would visit either Disney or Indian Rocks. After searching that area for an opportunity Jason came across Mango Rita's. He booked a flight and for the first time visited Fort Myers Beach. Instantly after coming across the arched Fort Myers Beach bridge and being greeted by the incredible view of the Gulf of Mexico they knew they were in an island paradise.
They had been telling their daughters they would wait until they graduated school, to move to Florida. Two of their daughters Sheridan and Hailey, graduated high school on Saturday,June 01,2019. Four hours later, they were making the 24 hour drive to Fort Myers Beach.
Jacinta and Jason wanted to bring with them Eastern shore Maryland style seafood offerings. As they noticed that the gulf coast menus lacked this. They are excited to share their amazing journey in life with every guest. Their great customer approach is simple, treat everyone like they are family. You will be greeted and invited to join them in great food and entertainment. They want to hear your story and will share theirs with you.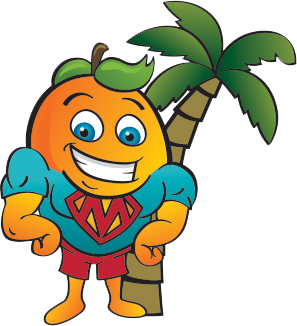 The Mango Rita's logo is a character based on Jason. The co-workers at his job and many friends call him Superman. He asked a co-worker who is a talented artist, Larry Stine, to come up with a character. What you see is the result of his work.
​Come out and join Jacinta, Jason and the entire staff at Mango Rita's. We all look forward to creating a lasting relationship.
Welcome to our Island Paradise Dream.